Test blasts on Didcot power station ahead of demolition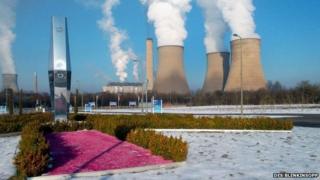 Test blasts are to be carried out on the base of one of the cooling towers at the defunct Didcot power station.
The coal-fired facility was closed down in March 2013 after 43 years in service.
Three of the six towers are set to be demolished later this year. The test explosions will be conducted during the day as part of a pre-planning process.
RWE npower said the work should not cause any disruption but wanted to reassure residents who hear the blasts.
The demolition work is being carried out by contractors Coleman and Company.
RWE npower announced the closure of the site in 2012 after opting out of the EU's Large Combustion Plant Directive, which is aimed at reducing emissions across Europe.