David Cameron runs in Oxford Sport Relief Mile event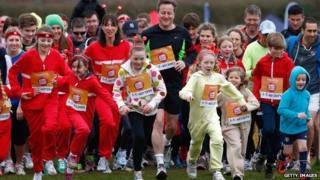 David Cameron joined hundreds of runners taking part in the Sport Relief Mile in Oxford.
The prime minister, his wife Samantha, and their children all ran in the Cutteslowe Park event.
Competitor Alison Richards, 41, from Stonesfield, near Woodstock, said the children in her running team thought it was "really nice that he got involved".
The prime minister said he was "delighted" to take part in the "fantastic event".
Comic Relief's chief executive Kevin Cahill said: "It's lovely to see the prime minister doing a Sport Relief Mile with his family today.
"It's what it's all about - everyone getting involved together, even the children."
'Good cause'
Ms Richards ran with her Stonesfield Fast & Furious team, consisting of five to 12-year-olds from the village.
She said: "[David Cameron] was just there running it with his family like everyone else.
"It doesn't make him look like he's some scary important person that just sits in London... he is somebody who will get stuck in with all of these things and support local events."
Mr Cameron said: "Sport Relief brings together some of the best things about Britain.
"We are a great sporting nation but also one of the most generous countries when it comes to contributing to good causes."
A figure of £51,242,186 was raised for the charity on Friday's televised Sport Relief programme, breaking the previous on-the-night record of £50.4m in 2012.