West Oxford's £125m flood channel plan moves forward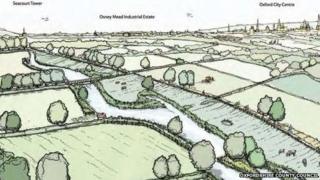 An ambitious £125m project to build a channel to the west of Oxford to ease flooding is to be developed after support from decision makers.
About 40 politicians and members of local and national agencies, including the Environment Agency, held a private flooding summit earlier in the city.
Oxford was badly hit by recent flooding with major routes cut off for days.
It was agreed the Western Conveyance Channel should go ahead and a feasibility study would be drawn up.
'Large chunk'
During severe floods, the four-mile channel would carry water to the west of Oxford in addition to the capacity of the River Thames.
Councillor Rodney Rose, deputy leader and member for flooding at Oxfordshire County Council, said: "I am confident that the channel would greatly reduce the risk of flooding in Oxford, and the knock-on impact on the wider Oxfordshire economy.
"If we don't back it now, there may not be a chance for several years. It could be now or never."
He admitted the key issue was funding and said a "large chunk" would have to come from local sources.
But he added he was encouraged by the support he received at the summit from national bodies and hoped government money would be forthcoming.