'Sexist' toilets policy to be reviewed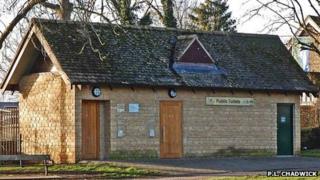 A local authority's "sexist" policy of charging women to use its toilets but not men using urinals is to be reviewed.
West Oxfordshire District Council charges 10p to use its toilet cubicles but men can use urinals for nothing.
Women sent "pee for free" protest letters to the council and garnered petition signatures from as far as Russia, Germany and Italy.
Councillors will consider replacing all the urinals with cubicles later.
'Equal opportunities'
The council charges 10p per visit to cubicles at 12 of its 13 public conveniences.
But at the four sites where there are urinals men can use the facilities at no cost.
Residents have complained about "unfair discrimination" since 2011 and invited others to sign and send a letter requesting West Oxfordshire District Council "notice their obligation to treat men and women with equality".
Johanna Hall from Witney said she felt the discrepancy was "unfair and sexist", while Stephen Merauld from Witney said his partner was "inconvenienced because of this charge" by "not having the right change".
Setareh Campbell from Oxford said: "If the council have an equal opportunities policy why aren't they sticking to it?"
Environment cabinet member David Harvey blamed the discrepancy on "ancient" legislation from the 1936 Public Health Act that allowed local authorities to charge for cubicles but not urinals.
However, councils have been able to charge for urinals since an amendment in the 2008 Sex Discrimination Act came into force.
Councillors will also consider increasing the charge for cubicles to 20p per use from 1 April.
The council said the reason for the proposed price hike was because the revenue generated from charging for 2012-13 was £11,606 but that the cost of running the public conveniences was more than £165,000.