Banbury Foyer gets £1m makeover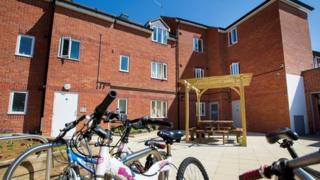 A £1m project to refurbish accommodation for young homeless people in Banbury is under way.
Existing flats at the Banbury Foyer are being remodelled into 25 self-contained bedsits, each with en-suite bathroom, kitchen area and bed-sitting room.
Debbie Pickford, from Cherwell District Council, said it would prepare those with housing difficulties to "move on to more fixed accommodation".
In 2012 the site's communal areas were renovated, at a cost of £650,000.
The Banbury Foyer is a learning and accommodation centre, providing safe and secure housing, support and training for people aged between 16 and 25.
The council has a waiting list for the specialist accommodation and in 2013 identified 109 young people in need of housing.
Of these, 44 were 16 and 17-years-old.
Jonathan Mullins, from Sanctuary, the company responsible for the foyer, said there was "significant demand" for this type of accommodation in Banbury.