Martha Fernback ecstasy death: Mother wants to work with dealer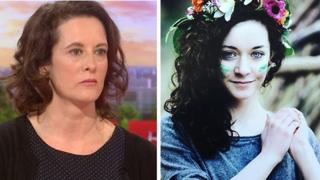 A mother whose daughter died after taking ecstasy says she wants to work with the 17-year-old found guilty of supplying the drugs that killed her.
Oxford schoolgirl Martha Fernback, 15 died on 20 July after taking 0.5g of MDMA, which turned out to be 91% pure.
Her mother Anne-Marie Cockburn wants to "take positive action" and work with Alex Williams, from Botley, to offer drug education talks to youths.
"It would be a powerful team to go round schools," she said.
'Miss her terribly'
Ms Cockburn, 43, is meeting Williams's youth liaison team next week to "set up a dialogue" with him.
She wants him to hear her proposal to take something positive from the death of Martha, who suffered a cardiac arrest.
"It would be nice to see him as a middle-aged man who has turned his life around and who can be proud of himself," she said.
She suggested Williams could help with the charity set up following her daughter's death, called What Martha Did Next.
"It would be amazing and powerful" if at some point he joined her on some talks at schools in Oxford, Ms Cockburn said.
Williams, of Sycamore Road, was given a community sentence on Monday for selling drugs.
Since her daughter's death last summer, Ms Cockburn said she had had time to think things through and "take positive action" instead of feeling "anger and retribution".
She has written a book called 5,742 days - the number of days Martha lived - that she wants to see in all secondary school libraries to "open the eyes" of young people to the dangers of drugs.
"I miss her terribly," she said, "but anger is not going to help me, and it's not going to change the past.
"But positivity can change the future."