Memorial appeal for Oxford Spanish Civil War volunteers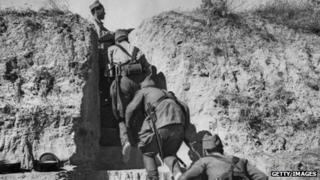 An appeal has been launched to create a memorial to volunteers from Oxford who fought in the Spanish Civil War.
Twenty six lived or studied in the city before joining the International Brigades fighting Franco's forces in Spain from 1936.
Oxford and District Trades Union Council and the city council aim to raise £5,000 for a permanent tribute.
International Brigades Memorial Trust (IBMT) secretary Jim Jump said a memorial was "long overdue".
About 2,500 volunteers from the British Isles joined the International Brigades during the fighting in Spain between 1936 and 1939. Of these, 526 were killed.
Among the volunteers with Oxford connections was South Wales miner Jim Brewer who studied at Ruskin College, surgeon Dorothy Collier and Alfred Smith who worked at the Morris car plant at Cowley. Seven of the Oxford volunteers lost their lives.
Mr Jump said: "A memorial will be a reminder both of the considerable impact that the war in Spain had on many people from Oxford and of the extraordinary sacrifice and example set by the International Brigades."
Regarded as an important prelude to World War Two, the Spanish Civil War began when army generals, led by Franco, rebelled against the elected government of the Spanish Republic.
The conflict cost more than half a million lives and remains a divisive subject in Spanish society.
Possible locations for the Oxford memorial are being investigated.