'Sexually motivated' doctor Srinivas Yenugula struck off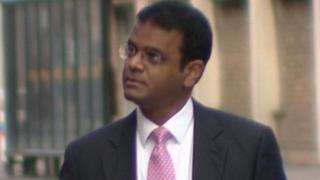 A doctor whose treatment of some female patients was ruled to be sexually motivated has been struck off the medical register.
Dr Srinivas Yenugula, from Oxfordshire, abused "a doctor's special position of trust" by carrying out unnecessary, unsupervised intimate examinations.
The Medical Practitioners Tribunal Service ruled his conduct towards seven patients left him unfit to practice.
The 44-year-old, from Sandford-on-Thames, is suspended immediately.
His removal from the medical register will take effect after 28 days, unless he lodges an appeal.
His legal team said it was "too early to determine" if he will appeal.
'Misleading and dishonest'
MPTS panel chairman, Prof Stephen Miller, said they had concluded Dr Yenugula's conduct towards seven of his 11 patients was "sexually motivated".
He said: "This included carrying out intimate examinations for non-clinical purposes and failures to provide a chaperone, in some cases, despite the patient's request for one.
"It also found that, in respect of three patients, Dr Yenugula recorded information in their patient records that was misleading and dishonest.
"In so doing, he had sought to conceal his sexually motivated conduct."
Dr Yenugula, who began working in the UK in 2003, vehemently denied any sexual purpose.
Arrested and charged in 2010, he denied carrying out tests that were not medically justified on patients between 2008 and 2009 while a locum at a number of Oxfordshire surgeries.
The following year, a jury at Oxford Crown Court acquitted him of four charges of sexual assault and seven of assault by penetration.
In June 2010, he was also suspended from practising medicine by the General Medical Council (GMC), which continued to investigate the allegations.
In 2011, Dr Yenugula was cleared by a criminal court of sexually assaulting eight patients.