Jayden Parkinson death: Woman released without charge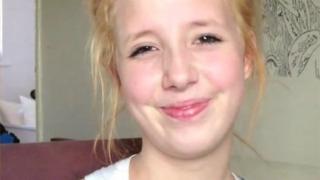 A woman arrested in connection with the Jayden Parkinson murder investigation has been released without charge.
The 48-year-old woman from Didcot, Oxfordshire, was arrested on suspicion of perverting the course of justice.
The 17-year-old's body was found in an established grave in a cemetery in Didcot on 18 December.
More than 1,000 students and staff at Jayden's former school have been wearing her favourite colour, purple, to show support for her family.
Head teacher Rachael Warwick, of Didcot Girls' School, said students wanted to show they were still thinking about Jayden and her family.
'Horrendous situation'
Jayden's ex-boyfriend Ben Blakeley, 22, has been charged with her murder.
Mrs Warwick said: "I've been very impressed at the mature and responsible way our girls have managed to deal with such a really difficult, horrendous situation."
Pupils are paying £1 to wear purple as part of a non-uniform day at the school.
Funds raised will be given to charity.
Mr Blakeley, of Christchurch Road, Reading, and a 17-year-old boy from Didcot have also been charged with perverting the course of justice.
The teenager is also accused of assisting in the disposal of Jayden's body and other evidence.
Police have now confirmed she died from "pressure to the neck".