Oxfam ex-fraud chief admits defrauding charity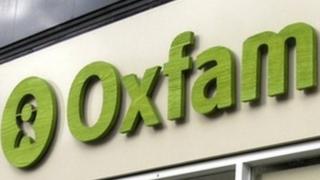 A man has admitted defrauding Oxfam out of nearly £65,000 while working as the charity's head of counter-fraud.
Edward McKenzie-Green, 34, of Chipping Norton, Oxfordshire, pleaded guilty at the Old Bailey to making payments to fictitious firms.
A charge against his father, Edward Green, 61, of Cumbernauld, Glasgow, who had been accused of helping him launder more than £35,000, was dropped.
McKenzie-Green was released on bail and will be sentenced on 16 May.
The court heard McKenzie-Green had made £64,612.58 in payments from Oxfam to fictitious firms between February and December 2011.
He had also been accused of stealing a laptop from the charity in December 2011 but the charge was dropped.
'Erratic behaviour'
Adam King, prosecuting, said the "carefully planned" scam involved submitting false invoices to companies McKenzie-Green had set up.
He said McKenzie-Green used a fictitious name, Keith Prowse, but some aspects of the scam were "very unsophisticated" such as the defendant misspelling his false company's name.
Matthew Sherratt, mitigating, said up until January 2013, McKenzie-Green had a "serious addiction to prescription medication" and his marriage was failing.
He told the court that these factors, combined with a high-pressure job, meant he "effectively suffered a breakdown".
Mr Sherratt said McKenzie-Green had been admitted to a psychiatric hospital in January 2013 when doctors noted his "erratic behaviour".
He said his client had a "false sense of victimisation" which "escalated" when he was put on gardening leave by Oxfam.
Mr Green, of Scott Crescent, Cumbernauld, who denied a charge of transferring criminal property, was excused from attending court.
After the hearing, Oxfam's head of counter-fraud, Oliver May, said: "We work tirelessly to ensure that money donated to Oxfam is not lost through the actions of rogue employees like McKenzie-Green.
"We will now work to try and recover the money taken."