Daniel Fallow prison sentence for cyclist death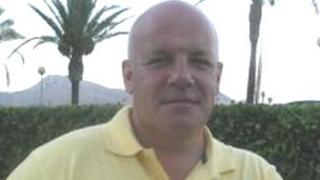 A driver has been jailed for 36 weeks for causing the death of a cyclist in Oxfordshire.
Dave Parris, 48, suffered fatal head injuries when he was struck by a Ford Escort driven by Daniel Fallow in December 2012.
Fallow, from Peregrine Way, Bicester, was found guilty of causing death by careless driving last month following a trial at Oxford Crown Court.
Mr Parris, who worked for the prison service, had two daughters.
The crash happened on the A4421 Neunkirchen Way, Bicester, on 4 December 2012.
Fallow was also banned from driving for two years and ordered to take an extended driving test.
A statement released by Mr Parris' family after the crash described him as a "family man" who "always had time for his friends".
PC Sian Pringle said: "The case highlights the importance of drivers being vigilant, careful and driving at an appropriate speed for the conditions."