Oxford City Council tax rise to tackle flooding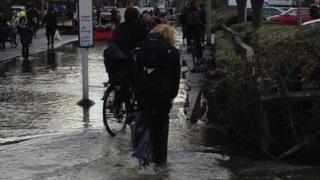 Council tax in Oxford will increase by more than originally planned to provide extra money to tackle flooding, the Labour-run authority has said.
The city council voted through a 1.99% precept rise instead of the originally proposed 1.5% at its full council meeting on Wednesday.
Two pumps to deal with flood water will be funded at a cost of £75,000.
But opposition Green Party councillor Craig Simmons labelled the budget "extremely disappointing".
He said a number of amendments had been voted down, adding: "At a time of austerity, the council should be investing in services not standing still.
"The people of Oxford have lost out on more than £7m of targeted spending on housing, environmental and social measures."
Measures also approved included a rise in rents for social housing tenants of about £5 a week and additional funding for the city's Covered Market.