UK floods: Oxford barriers raised as misery continues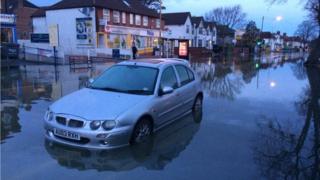 Flood barriers have been raised and roads remain closed as flooding continues in Oxfordshire.
Letters have also been sent to some residents in west Oxford, including in Earl Street and Botley Road, warning of potential flooding to their homes.
Several flood warnings are currently in place for the county, with further heavy rain forecast.
Environment Agency chief executive Paul Leinster has also warned "higher than current levels" of water are expected.
He said: "Oxford to Maidenhead we think could rise over the next five days and may lead to more flooding in that area."
Abingdon Road in Oxford, which closed on Sunday for the second time in a month due to flooding, has reopened.
Firefighters spent several hours on Tuesday night and Wednesday morning pumping out "substantial" amounts of flood water, according to the council.
Businesses in Abingdon Road have called for flood barriers to be installed.
The road remains closed to traffic travelling into the city centre, between Thames Street and Redbridge Park and Ride. It is not yet known when it will fully reopen.
About 30 roads across Oxfordshire are closed due to River Thames flooding.
Elsewhere, there are still major disruptions for several rail services, including First Great Western, with passengers advised not to travel.
Oxfordshire County Council said it had delivered more than 4,500 sandbags to flood victims across the county.
Flood barriers have also been put up at Bullstake Close, Osney Island and Lake Street by Oxford City Council.
The Met Office has forecast a month's worth of rain for southern England over the next few days.