Oxfordshire farmland devastated by sixth flood since 2008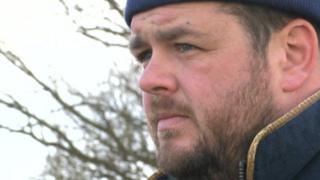 An Oxfordshire farmer says he has lost tens of thousands of pounds because 400 acres (160 hectares) of his land have been under water since mid December.
Tim Hook has written to his local MP, Prime Minister David Cameron, calling for the River Thames to be dredged as water from his land cannot drain away.
His family have farmed profitably in Bampton for 130 years, but since 2008 the farm has been flooded six times.
The Environment Agency said dredging did not always reduce flood risk.
However, the agency said it spent £45m last year improving river flow, including dredging and reducing silt and aquatic plants.
It has also held workshops for farmers and landowners in Oxfordshire and Berkshire to show them how to undertake maintenance on watercourses.
A local wildlife charity also said dredging would not reduce flooding.
Mr Hook said water from his fields could not drain into the swollen River Thames.
'No difference'
Hundreds of acres of wheat seed and grass seed have died as the crops cannot survive for more than three weeks under water, he said.
"We've got to be sensible that houses and people's welfare come first, obviously.
"But the UK needs to become more self-sufficient in terms of food.
"If you keep flooding us, we can't produce milk, beef and arable crops for your bread," he said.
Isobel Bretherton, of the National Farmers Union (NFU), said: "What we need to do is make sure our main rivers have got the carrying capacity to take water away.
"We want to see a combination of dredging, de-silting and vegetation management."
Giles Strother of the Berks, Bucks & Oxford Wildlife Trust, said: "Once the flood plain is full of water, it doesn't really make a difference whether you dredge or if you make space for the water, it fills up.
"Outside the flood plain there's a whole catchment further up, and if you can slow the water up and hold it back a bit, it makes the peak of that flood lower."
Mr Hook said Mr Cameron had promised to look into his situation.