Jericho Wharf boatyard 'piazza' plans unveiled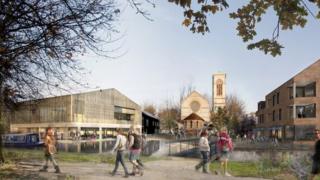 Plans for a "Venetian-style piazza" and concert space at a derelict Oxford boatyard have been unveiled.
The plan for Jericho Wharf would also see a community centre, housing and a boatyard for canal boat owners built.
Johnny Sandelson, chief executive of developers Siahaf, said the plan would unlock the wharf's "full potential".
Author Philip Pullman, who has campaigned against past plans, said the proposal was "much better" but advised caution.
He said the design "looks good, it looks attractive [but] we can't rush in and welcome it with open arms".
Jericho Wharf Trust's Phyllis Starkey said she welcomed the chance to discuss the plans for the area as "many people feel strongly about the site".
Steve Tompkins, of architects Haworth Tompkins, said the design took "inspiration from buildings in the area, as well as traditional canal-side and boatyard architecture".
"We've even looked to Venice and the Netherlands to help inform the design of the square and how it could relate to the canal."
The design would also see a new swing bridge added to link the site to the opposite bank of the canal.
Ms Starkey said it was "vital that this historic site is developed in a way that enhances facilities for Jericho, the canal boaters and the wider Oxford community".
Oxford City Council has rejected two planning applications from previous developers. Siahaf hopes to enter its application at the end of February.