West Oxfordshire councillor Steve Hayward in resignation U-turn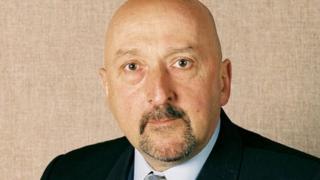 A councillor who resigned live on radio after being criticised for working from Asia has changed his mind.
Steve Hayward represents Ducklington at West Oxfordshire District Council despite living in Thailand.
He said instead of leaving the ward without a councillor he would take a 90% cut in his allowance of £4,350 a year, to cover phone calls and letters.
The Conservative-led council said the pay cut was effective immediately.
Mr Hayward, 59, has been living in Thailand since June.
He said he would not stand for re-election in May.
On Wednesday he told BBC Radio Oxford presenter Malcolm Boyden: "I shall contact the officer straight away.
"That will sadly leave the people of Ducklington [without a councillor]. I will forward it [my resignation] as soon as possible.
"At the moment I'm still trying to set up my business. I don't want to come back, not because I don't love my country."
The former Mayor of Witney was serving as an independent councillor and said he had attended one meeting since leaving the country in June - a cabinet meeting in November.
But Mr Hayward said he was willing to travel the 8,500 miles for any other council meeting which he "deemed important" and would not claim travel expenses.
Mr Hayward has been a councillor since 1987, and was first elected as representative for Ducklington in 1999.
He resigned from the Conservative party last year and was deselected from his county council seat.