Eoin Hartwright achieves youngest Atlantic Ocean rower title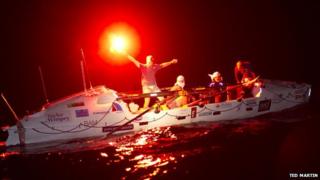 A British teenager has become the youngest rower to cross the Atlantic Ocean.
Eoin Hartwright, 17, from Oxfordshire, was part of a four-person team rowing 3,000 miles (4,800km) from the Canary Islands to Antigua in the Caribbean.
They arrived into English Harbour, Antigua after 43 days 21 hours.
Cris Rossier of the Ocean Rowing Society confirmed Eoin's record, describing it as a "phenomenal achievement".
The GCSE student set out on 21 December - weeks before his 17th birthday - in a challenge dubbed "the world's toughest ocean rowing race" by organisers Atlantic Campaigns.
The crew in the 26ft (8m) long boat was made up of Eoin's uncle Simon Hartwright 40, Atlantic yachtsman Mathew Collier 49, and former Marine Tom Alden 30.
They were raising money for Helen and Douglas House, a hospice for children and young adults in Oxford.
The Ocean Rowing Society, the official adjudicator of ocean rowing records for Guinness World Records, measures the rower's age on departure - not arrival.
Eoin broke the record held by Rachel Flanders who was 17 when she started her Atlantic row in 2008.