Save Temple Cowley Pools campaign hands in new petition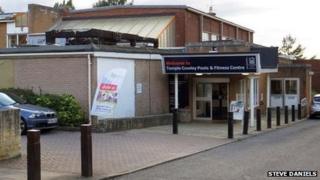 Campaigners trying to save a public swimming pool in Oxford have handed over a petition, calling for the city council to "listen to local people".
Some 1,650 people have signed the Save Temple Cowley Pools campaign's seventh petition against its closure.
In 2010, the group had a 12,000-signature petition - its first - rejected by the council.
The authority says the site is outdated and too expensive to run. Last month it said it was to be sold for housing.
Nigel Gibson, speaking on behalf of the SaveTCP, said the campaign had so far managed to "extend the life of the centre" by two years.
'Most energy-efficient'
"This petition asks the council to work with us to find a viable solution to keeping the Temple Cowley Pools and Fitness Centre open," he added.
"The number of signatures, and the speed with which we collected them, demonstrates yet again the overwhelming support for the campaign from the general public.
"[They] simply can't understand why such a popular centre, the most energy-efficient in Oxford and with the only publicly funded diving pool in the county, needs to be closed."
A new eight-lane, 25-metre pool in Blackbird Leys is currently being built by construction company Willmott Dixon to replace Temple Cowley Pools.
The authority said the site would not be sold or demolished until the city's new £9m swimming pool at Blackbird Leys has opened.
Labour councillor Mike Rowley, board member for leisure services, said Temple Cowley Pools costs the council in excess of £500,000 per year.
He added that utilities, repair and maintenance costs were "very high", adding Temple Cowley was "by far the most costly" in terms of management costs.