David Silvester gay marriage flood row councillor's home 'egged'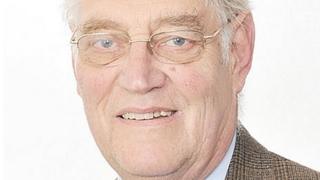 The home of UKIP councillor David Silvester, who blamed recent floods on gay marriage, has been targeted by protesters.
Mr Silvester did not wish to comment but Henley Town Council said eggs had been thrown at his house this week.
Insp Mark Harling told the Henley Standard police were investigating and condemned the act as "pointless".
An online petition demanding Mr Silvester's resignation has attracted more than 24,000 signatures.
As well as being hit by eggs, the town council said a "rainbow banner" had also been attached to the wall of Mr Silvester's house.
Complaints
Insp Harling, of Thames Valley Police, told the Henley Standard: "This is pointless behaviour and not the type of activity that is going to be taken seriously in a sensitive debate of this kind."
The council said it had called an extraordinary meeting for Tuesday.
During the meeting, the council will debate a letter the councillor sent to the Henley Standard on 17 January.
The authority has said his views are not those of the authority and are not council policy.
At the start of the meeting, members of the public will be able to ask questions or make a statement for up to three minutes.
In a statement on its website, the council said it had no powers to make Mr Silvester resign, but added it had received 12 complaints, including calls for him to resign or be removed.
Mr Silvester was suspended from UKIP on 19 January, and the online petition also asks UKIP to suspend him permanently.