Dr Yenugula Srinivas' treatment 'sexually motivated'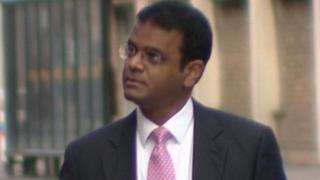 A medical tribunal has ruled the treatment a doctor gave to some female patients was "sexually motivated".
Dr Yenugula Srinivas, from Oxfordshire, was cleared in 2011 by a criminal court of sexually assaulting eight patients.
The Medical Practitioners Tribunal Service concluded his actions towards seven of 12 patients who gave evidence were "dishonest and misleading".
Dr Srinivas' legal team declined to comment on the findings of the panel, which will reconvene in March.
'Intimate examinations'
It will decide what sanctions to impose against Dr Srinivas, who has been suspended since 2010.
The tribunal heard allegations Dr Srinivas conducted "a number of intimate examinations of young women for sexual reasons".
He is also accused of "disguising such conduct by falsifying records and/or failing to record the examinations in question".
The 44-year-old, from Sandford-on-Thames, who began working in the UK in 2003, "vehemently denies any sexual purpose".
But, he had admitted on some occasions to failing to keep adequate records of examinations and clinical findings.
Arrested and charged in 2010, Dr Srinivas denied carrying out tests that were not medically justified on patients between 2008 and 2009 while a locum at a number of Oxfordshire surgeries.
The following year, a jury at Oxford Crown Court acquitted him of four charges of sexual assault and seven of assault by penetration.
In June 2010, he was also suspended from practising medicine by the General Medical Council (GMC), which continued to investigate the allegations.
The Medical Practitioners Tribunal Service, which runs tribunals on behalf of the GMC, began its hearing in November.
In March, the panel will consider whether the facts found proved amount to impairment of Dr Srinivas' fitness to practise.
If necessary, it will then consider what sanction to impose, if any.