Oxford's Templars Square shopping centre glass roof smashes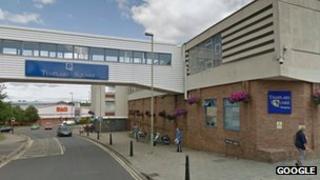 A shopping centre in Oxford was evacuated after part of the glass roof smashed during a sudden storm.
Templars Square, Cowley, was closed for 20 minutes after the wind appeared to rip part of the roof away, sending broken glass into the shopping area, shortly before 16:00 GMT on Saturday.
No one was underneath at the time, the centre's manager said.
The building reopened but the affected area, including four shops, remained closed for the rest of the day.
Centre manager Aaron Bayliss said "sudden, freakish weather conditions" seemed to pass over the Cowley area, also causing damage to one of the centre's shutters and blowing down a tree nearby.
Triangular hole
He said: "We sustained a small area of damage to our glazed roof cladding. The wind appeared to lift it and tear it from its fixings, causing some of the glazing to come into the centre, although most of it stayed in situ.
"There was a loud bang which, understandably, shocked members of the public. It must have looked and sounded quite out of the ordinary.
"We worked into the evening to make it safe and remove all the loose elements."
The smashed glass left a triangular hole in the roof about five metres (15ft) across.
Mr Bayliss said a close inspection revealed there was no structural damage and all the shops were reopened by Sunday, although the area beneath the hole in the roof remained cordoned off while repairs were being arranged.