Oxford girl 'achieves dream' of riding a cycle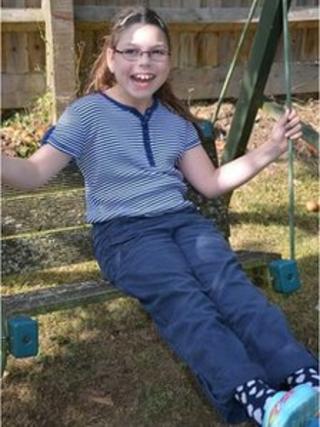 A girl from Oxford has "achieved her dream" of cycling, years after doctors predicted she would never walk.
Judith Stickings, 10, from Headington, suffered severe birth asphyxia which led to cerebral palsy, developmental delays and visual impairment.
She has now been given a specialist therapy tricycle by children's charity Caudwell Children after "kind-hearted" supporters donated almost £2,500.
Gillian Stickings, Judith's mother, said she was "very proud" of her.
"To see her come this far in just 10 years is incredible. Being told by doctors that your child will probably never walk is heartbreaking," she added.
"Her condition means she is very weak on her right-hand side. This makes it very hard for her to get around."
'Chance to develop'
Ms Sticking said it was "strange" asking people for money but it was "very moving" now Judith has her trike.
Caudwell Children issued a public appeal to raise the £1,946 needed for the therapy tricycle.
Chief executive Trudi Beswick said the trikes can make an "immeasurable difference" to the lives and development of children with disabilities.
"It gives them their freedom and the chance to develop," she added.
Cerebral palsy is a condition that affects movement and coordination, and is caused by damage to the brain.