UKIP councillor defends gay marriage flooding stance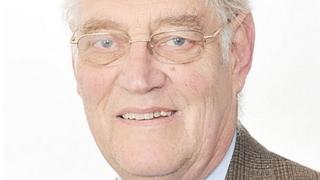 A UKIP councillor has defended his stance of blaming recent storms and heavy floods across Britain on the legalisation of gay marriage.
David Silvester, from Henley-on-Thames, Oxfordshire, had initially written to his local paper warning David Cameron the move would "result in disaster".
Reiterating his views on BBC Radio Oxford, he added: "God wants all gay men to repent and be healed."
Church groups called his views "primitive and dangerous".
Councillor Silvester defected from the Conservatives to UKIP in protest at David Cameron's support for same-sex unions.
In a letter to the Henley Standard, the town councillor drew a link between the passage of the government's same-sex marriage bill and recent flooding across the UK.
Speaking to BBC Radio Oxford's Charles Nove on Sunday, Mr Silvester said: "I'm serious, I believe what the Bible says about what is right and what is wrong for mankind.
"Secondly, I believe what the Bible says about divine repercussions on nations that insist on wrongdoing.
"God wants homosexuals to repent and be healed. I don't believe it's right to leave them as they are.
"That's not God's purpose."
The Rev Colin Coward, from Anglican group Changing Attitude, said he was not unfamiliar with Mr Silvester's mindset.
'Just prejudice'
"I don't know where David worships, but clearly it's in a sect, a church which is not mainstream in its Christian practice and teaching."
Mr Coward added: "It's just prejudice that he is justifying on the grounds of his particular brand of Christianity."
Ian Bunce from the Baptist Union said: "It's a big jump from same-sex marriage to finding a cause of flooding.
"I'm not sure how Mr Silvester gets to that point in any context.
"It's a rather old-fashioned view and it's certainly not an opinion which holds any theological weight at all."
UKIP has said Mr Silvester's views are "not the party's belief" but defended his right to state his opinions.