MP Nick Boles criticises Castle Mill student flats design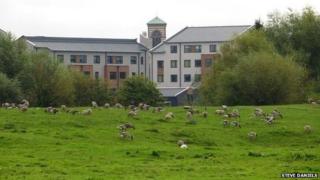 Planning Minister Nick Boles has described student flats built near an Oxford beauty spot as one of the "worst examples of modern design" he had seen.
The £21.5m Castle Mill development at Port Meadow has been widely criticised as ugly and spoiling the view.
Mr Boles said Oxford City Council and the University of Oxford should be "thoroughly ashamed".
Both say they are taking on board recommendations following an independent review.
The five-storey accommodation blocks on Roger Dudman Way, with 439 units of university graduate accommodation, overlook a Site of Special Scientific Interest and a Scheduled Ancient Monument.
'Maze Prison'
Mr Boles, who graduated at the university, viewed the site on Thursday following talks with Oxford West and Abingdon MP Nicola Blackwood.
He wants the institution and the council to apologise to the community.
He added: "I'm angry about this. I think this is one of the worst examples of a planning proposal I've seen and one of the worst examples of modern design that I've seen.
"I cannot think of one that is less appropriate, and a less high quality design."
He likened the structures to the "Maze Prison, on the edge of Port Meadow".
'Hope not lost'
Planning permission for the development was granted in 2011.
But residents say they did not ask the Secretary of State to call it in at the time because they were not made aware of the plans.
Helen Marshall, director of Campaign to Protect Rural England (CPRE) Oxfordshire, said the flats subsequently went up "very quickly".
However, an environmental impact assessment, which had not initially been carried out by the university, could result in the structures being reduced by two storeys.
She added: "All hope is not lost.
"[The assessment] would keep all issues on the table, including a possible reduction in height of the buildings."
In December, the findings of an independent review found the development could have been better co-ordinated and consultation was inadequate.
A spokesperson for the University of Oxford said: "We have acted in good faith throughout and look forward to meeting with the reviewer to discuss the issues he raises and the recommendations he makes."
An Oxford City Council spokesman said it had fulfilled its "statutory obligations effectively and had made some recommendations for improvements to the consideration of planning applications".