Didcot dig: Campaign against road near Bronze Age monument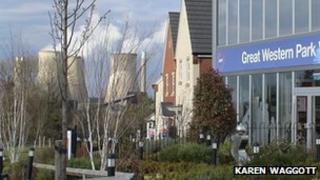 Campaigners trying to save archaeology have urged housing estate developers to change the route of a road to save a Bronze Age burial monument.
A dig ahead of the development of the Great Western Park estate in Didcot, Oxfordshire, discovered humans had lived on the site for 9,000 years.
The Didcot Dogmile group said Taylor Wimpey's planned road would cut across the rare pond barrow.
The firm said archaeology had already been cleared from the area.
About 3,300 homes, schools and shops are being built on the 180-hectare site east of the town.
Didcot Dogmile is working to create an archaeology trail to mark the sites of the finds.
Karen Waggott, from the group, said the Eastern link road would run too close to the Bronze Age pond barrow - one of only about 100 identified in the UK - and a nearby settlement.
Neolithic bowl
She said: "The sites [of finds] should be preserved and landscaped to show the size, locations and details of the archaeology, all linked with information boards through the new estate.
"It would tell such an incredible story of human development from a few prehistoric flint hunting implements 9,000 years ago, through to the first farmers and their ancient rituals, lives and homes, to villas and treasure in Roman times.
"It could even include a board with pictures of the power station - due to be demolished this year - and the railway that borders the northern edge of the development, bringing history right up to date."
A Taylor Wimpey spokesman said: "Archaeology has already been cleared from the area of the proposed Eastern link road as part of an agreed programme of archaeological works at Great Western Park.
"It was through these comprehensive archaeological works that we identified the significance of the pond barrow, which as a consequence of investigation was almost entirely removed from this location, to the east side of Boundary Park.
"Following excavation of the pond barrow and nearby Bronze Age settlement features, in 2012 this area was formally signed off as complete by the county archaeologist, allowing construction in due course."
Among other discoveries made by archaeologists during 2010-13 excavations was a rare and complete Neolithic bowl from about 3,600 BC, 60 Iron Age roundhouses, up to 50 burials and a Roman farmstead, much of which is preserved under sports pitches.
More than 900 people have signed a petition for the archaeology trail, which is backed by Didcot Town Council.
The county council will make a decision on whether to grant planning permission for the new road once the public consultation on the proposal closes on 28 January.