Bicester Village park and ride gets the green light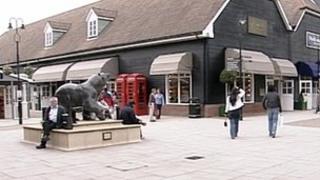 Proposals for Oxfordshire's first park and ride site outside the city of Oxford itself have been approved.
The owners of the Bicester Village shopping outlet will fund the £3m car park, with almost 600 spaces, on land close to the complex off the A41.
It will serve both the site and drivers heading into Bicester itself, and regular buses will also run into central Oxford.
The aim is to have the facility up and running before Christmas.
Traders in Bicester have welcomed the scheme which they say should help reduce traffic congestion which has been a problem at peak times.
Bicester shopkeeper Rob Douglas previously said it would be "a good thing as long as it feeds the town as well as Bicester Village".
The park and ride scheme is part of £11m plans to combat congestion in the area, which includes new junctions, a roundabout and extra lanes.