Oxford residents flee rising flood waters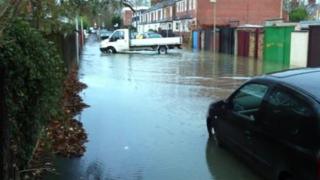 Residents have been evacuated from their homes in Oxford as authorities struggle to hold back rising waters.
About 20 people, including a woman in her 90s, fled a block of flats in Binsey Lane, Botley, as water overtopped barriers.
The area is surrounded by water. Pumps have been diverting it from 100 homes into fields.
Tim Sadler, from Oxford City Council, warned: "We're running out of places to pump to."
Other residents have been advised to pack overnight bags and prepare for evacuation.
A reception centre has been set up at Blackbird Leys Leisure Centre to help people find alternative accommodation.
The council has issued almost 10,000 sandbags.
'Further flooding'
Steven Cobb has been transporting supplies to his Binsey neighbours with the use of his canoe.
He said: "The only nice thing about flooding is that everyone really helps one another.
"We go into each other's houses, we make sure we're all alright, we look after each other, the 80-year-olds, the two and three-year-olds, and we make sure that everybody's OK."
On Wednesday, a 73-year-old cyclist died after going into floodwater in Godstow Road, Wytham.
The man was airlifted to the John Radcliffe Hospital in Oxford in a serious condition but he was later pronounced dead. He is the eighth person to die in bad weather since December 23.
The flooding is expected to remain in parts of Oxford for "up to a week", the Environment Agency (EA) has warned.
Howard Davidson, EA director for the south east, said: "River levels are high and will continue to rise for the next few days.
"It is likely that we will see further flooding to properties over the coming days."
David McKnight, from the EA, said: "There is so much water still hanging about in the fields and it's still got to make its way downstream."
The EA has recorded the river level at Iffley Lock on the Thames is 0.85 metres. It typically peaks at 0.22 metres.
The agency said the highest river level recorded at this location was 0.94 metres.
Water levels in the River Thames were expected to peak by Friday.