Oxford greyhound stadium: Homes plan refused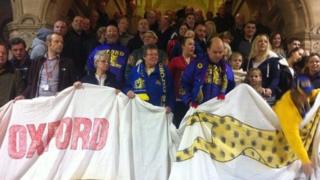 Plans to demolish Oxford's former greyhound stadium to make way for 220 homes have been rejected.
More than 300 people crammed into the town hall where the city's planning committee voted against the proposals.
During the meeting on Wednesday evening, members of the public applauded and gave a standing ovation to speakers opposing the plans.
The track shut in 2012 after owners the Greyhound Racing Association, said it was no longer viable.
A council report concluded the scheme would cause "severe harm" to the community and it was recommended refusal.
It said: "The proposed demolition would result in the loss of a community facility and heritage asset of local significance that provided a range of much-loved pastimes and that is capable of continuing to provide those pastimes again.
"[This] would result in severe harm to the wellbeing, community cohesion, social interaction and social inclusion of the wider Oxford community."