Plans for £5m community building in Bicester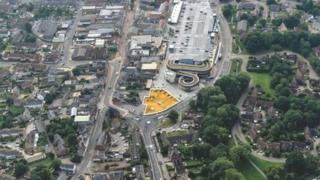 Plans for a £5m community building in Bicester town centre, have been unveiled.
The five-storey structure would house a hotel, library, offices, a restaurant and retail space.
If the plans are approved the building will go up on the Franklins Yard car park, facing the new Wesley Lane and Wesley Square.
An exhibition showing the plans will be held at the Pop In Cafe in Manorsfield Road on 16 and 17 January.
The ground floor of the Bicester Community Building would contain office space, a Cherwell District Council Link Point along with a restaurant and shops.
'Worked hard'
The first floor would include the new Oxfordshire County Council Library and would also house the Bicester Historical Society.
Further office space will be formed on the first and second floors, while the third and fourth floors will consist of a 53-bedroom Travelodge hotel.
A planning application is due to be submitted in February and if approved, construction will begin later this year and is expected to be completed in the summer of 2015.
Councillor Norman Bolster said: "The Bicester Community Building is the final stage of the town centre regeneration project.
"We have worked hard to strike a balance so the new building will complement and enhance both the modern Pioneer Square development and Bicester's Old Town, while providing a hub for services and business."
He urged as many residents, traders and visitors as possible to view the plans and give their feedback before the 31 January cut-off date.