Oxfordshire homes flooded following heavy rain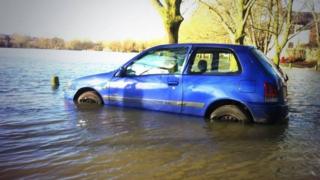 Residents in part of Oxford are on standby after being told their homes might have to be evacuated.
Botley Road is one of the major routes into the city that has been closed off because of flooding.
In Wytham, a cyclist died after apparently falling into floodwater on Godstow Road.
Around 3,300 sandbags were issued across the county as homes flooded, roads were shut, bus and train services disrupted, and schools closed.
The Environment Agency said several flood warnings were in place across the county.
People living in the Botley Road area have been told to pack overnight bags as they may have to leave in the next 24 hours.
Tim Sadler, executive director of city services at Oxford City Council, said: "Since Saturday we've been holding the water back behind the Botley Road but last night the water started to come around and under the barrier.
"It's got increasingly worse during the day and we're now not confident that we can hold it back if the water rises much further."
The city council has set up a pump at Ferry Hinksey Road, and erected barriers at Bulstake Close, Osney Island and at Hinksey Lake.
'Severe delays'
Abingdon Road was closed late Monday evening. Temporary toilets have also been set up because drains are overflowing.
Peter Rawcliffe, from South Hinksey, has had his house flooded. It was previously damaged in 2000 and 2003, leading him to install pumps and stone floors at the property.
He said: "Unfortunately it's happening all too often and that is the bigger problem, it's not just us, it's a lot of other people.
"It's the effect on commerce..businesses are affected, travel is affected."
Stagecoach and Oxford Bus Company have diverted several of their services.
Karen Coventry from Stagecoach said: "We have severe delays due to road closures but also the knock-on effects of the congestion around the open routes into the city centre."
Elsewhere, Seacourt Park and Ride has been closed.
In Northmoor, 20 people and two dogs were evacuated from Bablock Hythe caravan park, according to West Oxfordshire District Council.
Meanwhile, flooding at Radley has caused disruption to rail services between London Paddington and Banbury.
First Great Western and Cross Country said they were no longer able to run services between Oxford, Didcot and Reading due to severe flooding.