Oxford Canal boat: Man and dog found dead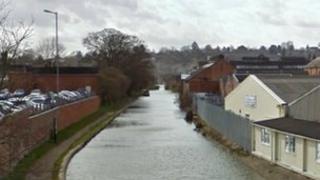 A man and his dog have been found dead on a canal boat in Oxfordshire in what is believed to have been an accident.
Firefighters called to the Oxford Canal at Banbury used breathing apparatus and gas monitors after paramedics requested assistance.
No gas was detected, but the fire service warned of the dangers of toxic fumes from appliances on boats.
The man and his dog were pronounced dead at the scene near Tramway Business Park.
Oxfordshire Fire and Rescue watch manager John Callaway said: "Although the cause of this tragic incident has yet to be determined and is an ongoing investigation by the police, there are a number of appliances common to both boats and caravans as well as houses that have the ability to produce toxic fumes.
"It is our advice that all such equipment is professionally installed by a qualified technician and serviced regularly in accordance with the manufacturer's instructions.
"We also recommend that both smoke and carbon monoxide alarms are fitted and tested weekly."