Jayden Parkinson: Grave body case inquest opens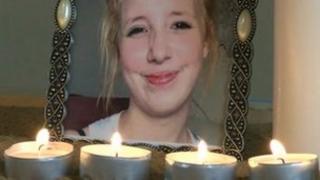 The cause of death of Jayden Parkinson remains unclear, an inquest has heard.
The remains of Jayden, 17, were found in a recently-disturbed grave, last Wednesday.
Initial post-mortem tests proved inconclusive and more investigations will be conducted. The inquest was opened and adjourned at Oxford Coroner's Court.
Jayden's ex-boyfriend Ben Blakeley, 22, from Reading, appeared in court last week charged with murder.
The teenager was last seen on 3 December, leaving Didcot railway station. Her body was discovered in the Great Western Cemetery All Saints' Church in Didcot, Oxfordshire.
More than 100 officers and detectives had carried out intensive forensic searches at several sites in and around Didcot and the nearby village of Upton in a bid to find Jayden.
A 17-year-old boy from Didcot, who has been charged with perverting the course of justice, has also appeared in court and is due for a further appearance on 17 March.
He is accused of assisting in the disposal of Jayden's body and other evidence.