Jayden Parkinson: Vicar 'shocked' by crime scene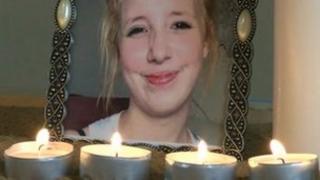 The vicar of a church where the body of teenager Jayden Parkinson was discovered has spoken of her shock.
The Reverend Karen Beck, of All Saints Church, Didcot, led a service to remember the 17-year-old whose remains were found in a grave on Wednesday.
After the service, she said it had been an "incredibly difficult week".
"The police were in our churchyard from the beginning of the week but we never expected that it would become the crime scene that it did," she said.
About 150 people attended the service on Saturday evening. A book of condolence has also been opened.
'Raw feelings'
Ms Beck said: "It was just a time for people to come together to pray and to reflect.
"It was important, I think, that people were able to share a little bit of what they had been experiencing and feeling.
"I think the young people, particularly, have been really touched by this event, the tragedy that has unfolded. I think they are struggling quite hard with all that has gone on.
"My heart really goes out to Jayden's family and particularly to the young people of our town.
"The service was a particularly solemn occasion, one where feelings were very, very raw. The sadness and the grief that people are feeling, and possibly some of the anger as well, was there."
A post-mortem examination has not yet established how Jayden died.
Her ex-boyfriend, 22-year-old Ben Blakeley, from Reading, has been charged with her murder.
A 17-year-old boy from Didcot, who has been charged with perverting the course of justice, has also appeared in court and is due to reappear on 17 March.
He is accused of assisting in the disposal of Jayden's body and other evidence.