Oxfordshire collapsed road reopens a year on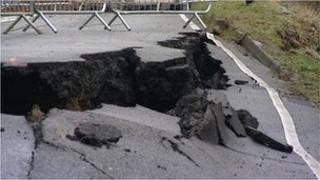 A road in Oxfordshire that collapsed 12 months ago after weeks of heavy rain has been reopened.
The A4183 Oxford Road at Bagley Wood has been shut since a 200ft (60m) section was split in two by a landslip on 20 December 2012.
Repairs to the road and the embankment, close to Bagley Wood Samwills, cost £1m, Oxfordshire County Council said.
The stretch, about two miles from Oxford's city centre, links Oxford to Abingdon.
Transport councillor David Nimmo Smith said: "It has been an enormous task to undertake all the necessary survey work, come up with the solution and then the physical repair work itself.
"We appreciate that local people, bus users and others have been significantly affected by the need to close the road.
"The sheer scale of the underlying problem meant this was never going to be a quick task."