Wallingford remains dug up for supermarket reburied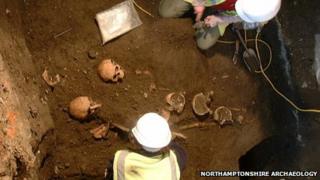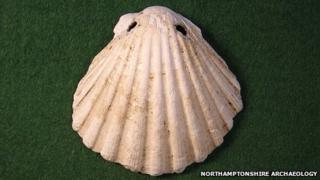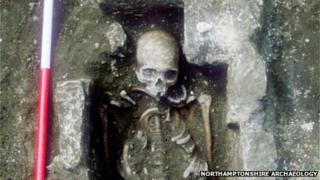 The remains of more than 200 Saxon and Medieval bodies dug up when a new supermarket was built in Oxfordshire have been reburied.
The remains of 211 people, dating from the 10th to the 14th Century, were moved from graves in the old part of Wallingford Cemetery.
They were excavated ahead of the building of a Waitrose store in St Martin's Street.
A re-committal took place in the cemetery in Castle Street.
The earliest burials date to about 980, soon after the town was founded by King Alfred, Judy Dewey, the curator of Wallingford Museum said.
The excavation, in 2003-2004, was funded by the supermarket chain.
Ms Dewey said: "They were buried in the churchyard of St Martin's - a Saxon church which gave its name to the street in which Waitrose now stands but which fell out of use in the 14th Century, like most of Wallingford's other 10 Medieval parish churches.
"Of the 211 complete or near-complete bodies 72% were adult - 37% female and 37% male - and 28% were babies, children or adolescents.
"Odd bones represent a further 300+ individuals, whose burials were previously disturbed, mainly by later graves.
"The bones that are being re-buried have been fully examined and analysed for dating evidence and for better understanding of burial practices, signs of disease, accidents, and causes of death.
"They have added greatly to our knowledge of the early town."