Sacked chef takes Twitter revenge on The Plough, Great Haseley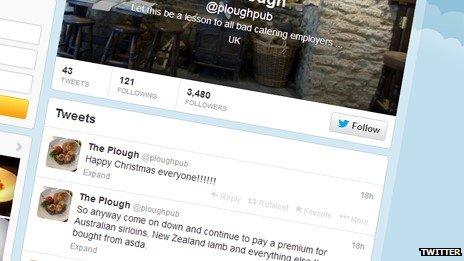 A pub's head chef, who was sacked after refusing to work on Christmas Day, has responded by posting messages from the venue's Twitter feed.
Jim Knight, 28, admitted posting tweets on the feed of The Plough in Great Haseley, Oxfordshire, claiming its food was sourced from a supermarket.
The pub confirmed he had been dismissed following a disagreement over Christmas Day working.
It described the allegations over its food sourcing as "untrue".
Messages were posted from the Plough pub account on Sunday, saying: "We'd like to inform you that we've just fired our head chef.
"Unfortunately he wanted to have a weekend off this month and Christmas Day this year for family commitments so we thought we'd sack him."
Other messages read: "Yeah a week before Christmas!
"We don't care that he has a 7 1/2 month old baby daughter.
"So anyway come on down and continue to pay a premium for Australian sirloins, New Zealand lamb and everything else that is bought from Asda."
The profile message was also changed to "Let this be a lesson to all bad catering employers".
Despite being retweeted thousands of times, the original comments had not been deleted 19 hours after they were posted.
Mr Knight, from High Wycombe, later tweeted from his own account, saying he had created the account with the permission of his former employers.
"I stand by my comments whole heartedly," he added.
In a statement landlord Steve Potts said: "The implied suggestion that we are buying cheap meat and passing it off at a premium is, frankly, outrageous and untrue."
Mr Potts said he had been clear about the need to work Sundays when Mr Knight started work in October and he was left with little choice but to part company with his chef when he could not work those days.
Related Internet Links
The BBC is not responsible for the content of external sites.