James Hunt Formula 1 racing helmet sells for £37,500 at auction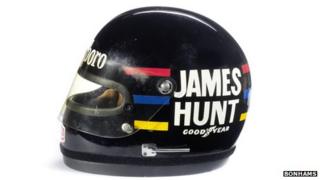 A helmet worn by Formula 1 racing driver James Hunt when he was crowned world champion in 1976 has sold at auction for £37,500.
Auctioneers at Bonhams in Oxford had originally expected it to fetch bids between £18,000 and £20,000.
Interest was heightened following the release of film Rush, about Hunt's rivalry with Niki Lauda.
A helmet signed by Sebastian Vettel and worn by him at the Nurburgring earlier this year, sold for £72,100.
One of James Hunt's Bell helmets worn during his Formula Ford and Formula 3 career between 1968 and 1971 failed to sell despite being listed between £5,000 and £7,000.
But a helmet and racing suit from Rush sold for £1,937.
The suit was worn by actor Daniel Bruhl, who played Lauda in the film alongside Chris Hemsworth as Hunt.