Oxford tent death sparks chemical alert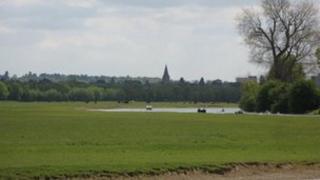 Chemical and radiation experts were called in after the unexplained death of a man found inside a tent.
A passer-by discovered the body while walking in the Port Meadow area of Wolvercote, Oxford, at about 12:25 GMT.
A strong chemical odour prompted the area to be cordoned off and specially-trained officers to be brought in.
Thames Valley Police said it was likely the chemical was hydrogen sulphide, which can be fatal within minutes if breathed in.
Members of the public were warned to avoid the cordoned-off area.
A number of local footpaths have also been closed.
Police said although the man's death was being treated as unexplained, there appeared to be no suspicious circumstances.
Supt Steve Hockin said: "Early indications are that the chemical involved in the death of the man is hydrogen sulphide, but emergency services are working together to examine the scene and recover the body as safely as possible."