Oxfordshire County Council's services set for £64m cuts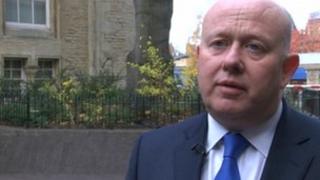 Oxfordshire County Council has announced proposals to cut services by £64.7m over the next four years.
Areas hit include adult social care, public health, and highways management.
But it expects to get more funding from the NHS, and council leader Ian Hudspeth said children's centres were no longer under threat.
Liz Brighouse, leader of the Labour group, expressed concern about the implications for adults with learning disabilities and the elderly.
"We have to stick by our principles... local government is about protecting the most vulnerable people in our society," she said.
'Clear danger'
The council is seeking to save £7m from its adult social care budget, including £3.4m through encouraging more people with learning disabilities to live at home with support.
It will also stop funding meal, laundry, and shopping services.
Judith Heathcoat, cabinet member for adult social care, said its policies of "aiming to keep people well and encourage independent living" would continue.
Paul Cann, chief executive of Age UK Oxfordshire, said the council had been dealt a "tough hand" from the government, and had worked hard to keep older people active and healthy.
But the needs of 8,000 older people in the county were not being met, he added.
"There is a clear danger now that we will see a reduction in some highly valued support services for the very frailest.
"This means that some older people and hard pressed carers may simply feel unable to go on coping, with a resultant rise in avoidable hospital and care home admissions.
"Oxfordshire has led the way nationally on enabling people to choose their care, and we hope there will be no retreat from this principle."
'Tough decisions'
Meanwhile, the council is reviewing its contracts within public health, where it aims to save £2.5m.
Other proposals include reductions in the amount of grass cutting, road surveys, and maintenance to street lighting, verges, and trees in the county.
And the authority wants to save £3m across children's services by linking up early intervention services, children's centres, and children's social care.
David Cameron previously pledged his support for the children's centres during a review of all 44 sites.
Mr Hudspeth said: "There was a worst case scenario about children's centres... I said I'd listen and I think this proves that we have listened and we've delivered a package that's going to be appreciated by everybody and actually means we envisage no closures.
"We always try to protect the frontline services where possible but we do have to take these tough decisions to balance the budget overall, otherwise there'll be bigger percentage cuts in other areas across the council.
"Some of the savings and cuts we've had to make are unfortunate, but there are tough decisions we've got to make in order to deliver a sustainable budget."
Additional health funding of £10m is expected following an agreement with NHS England and the Oxfordshire Clinical Commissioning Group.
The council is due to propose its budget in February after consultation.