Oxford council tax to continue rising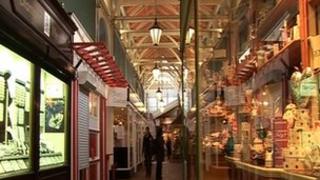 Council tax will continue to rise 1.99% every year until 2016 under plans announced by Oxford City Council.
But the authority vowed to invest £500,000 in the Covered Market and extend food recycling to all flats.
Deputy leader of the Labour-run council Ed Turner claimed many of the proposals would make Oxford a "fairer, safer, better place to live".
But Liberal Democrat leader Jean Fooks criticised increased car parking and waste collection costs.
The council tax increase of 1.99% means the authority can avoid a referendum, which must take place when council tax goes up by 2% or more.
Other increases include an extra £100 to buy a grave in the city, plus higher car parking and garden waste bin fees.
But the council wants to keep public toilets open longer in the evenings, and increase funding for cycle lanes.
The four-year "medium term financial strategy" will be discussed at a meeting of the city executive board on 11 December.
A consultation follows in January with a decision expected on 24 February.