Radioactive pipe under Helena Bonham Carter's garden removed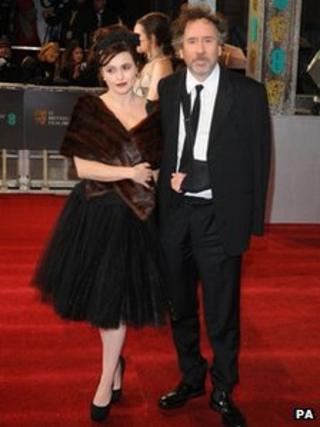 A radioactive waste pipe is being removed from the garden of actress Helena Bonham Carter.
It runs under the Sutton Courtenay garden of the actress and her partner, film director Tim Burton.
The four-mile pipe discharged diluted chemical and radioactive components from Harwell's Atomic Energy Research Establishment into the Thames.
Angela Vincent, of Research Sites Restoration Ltd, said the couple and other villagers were not in danger.
The pipe is thought to contain low levels of radioactivity in the scale and silt which have built up since the late 1940s.
'Radiation detectors'
She added: "From our previous experience excavating other sections of the pipeline, excavation and removal of the pipe will not release airborne contamination.
"Nevertheless, as a precautionary measure, airborne radiation detectors will be positioned in the area for reassurance purposes.
"We have respected the privacy of our neighbours and kept them informed."
The pipe discharged treated water from Harwell into the River Thames until March, when the decision was taken to decommission it.
Work to clear equipment and a further section of pipeline will take place over the next few months.
Helena Bonham Carter and Tim Burton moved to the Grade-II listed house in 2006.
It was once owned by Bonham Carter's great-grandfather, former Prime Minister Herbert Asquith, who purchased it during World War One.