Oxfordshire children's centres campaigners present petition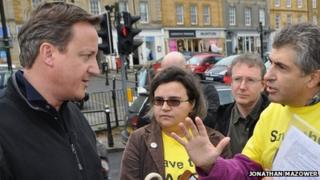 A petition signed by David Cameron has been presented by about 100 campaigners bidding to save children's centres across Oxfordshire.
The 8,000-signature petition has been collected in response to county council proposals to close the centres as part of budget savings of £61m.
The worst case scenario would see 37 out of 44 centres in the county close.
Campaigners argue the service is essential. The council will recommend its budget proposals next month.
Emma Taylor, from Henley, helped start the campaign on Facebook last month. The group now has more than 2,000 members.
She said: "I started using my local children's centre as I felt really isolated as a new mother.
"The centres are the only place in the community where people can access a range of trained and experienced staff."
'Very important'
The Prime Minister backed saving the centres when he spoke with campaigners in Chipping Norton last month.
He told them he was "on the case" and that the centres were "very important".
His decision to sign the petition came in for criticism from Labour leader Ed Miliband, who questioned if he was taking the issue "right to the top".
Oxfordshire County Council's budget proposals will be recommended by cabinet to full council next month, with a final decision expected in February.
Council leader Ian Hudspeth told a public meeting in Banbury that council tax bills would have to rise by 20% to avoid any cuts in services.