'Famous' Crown & Thistle pub reopens after revamp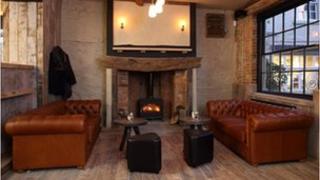 A pub which has served a long line of famous customers over 400 years has reopened after a £1.8m restoration.
The Crown & Thistle in Abingdon is thought to be one of the oldest in the town and was reputedly built in 1605.
It has hosted the 19th Century social commentator John Ruskin and American actor Douglas Fairbanks Jr.
The pub, which has also entertained former Prime Minister Margaret Thatcher and comedian Billy Connolly, has seen its hotel rooms refurbished.
Oakman Inns bought the traditional coaching inn for £1.6m in 2012.
A spokeswoman said "everything" was in need of restoration, while a new cafe has been created alongside the existing restaurant.