Oxford University student union spoof campaign winner has serious aims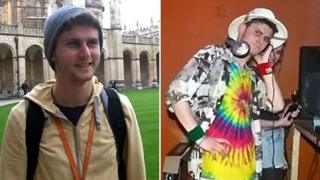 A student who won the presidency of Oxford University's student union after a spoof campaign has said there was a serious point behind his election.
Louis Trup wrote his "personifesto" in crayon, promising world peace, a monorail and double beds for all.
But he said he wanted to reform a union that was no longer engaging students, "partially due" to underfunding by the university.
The university said it was working with the union to address its 2014/2015 grant.
Flip flops
Mr Trup, a third year geography student at Brasenose College, shunned a "manifesto" on the grounds of sexism and encouraged students to vote for him because he often wore flip flops.
He won a landslide victory after performing a spoof country song instead of a speech at the official hustings.
But the "funny aspects" to the campaign had not come from a joke candidate, he told the BBC.
Mr Trup wrote in a pre-election article that he wanted to highlight that "we should have fun students working for fun students, not un-fun student politicians working towards a cosy Labour seat in 20 years".
He said past union representatives were inside a "political bubble" and out of touch with what students wanted.
"I want to show that anyone can and everybody should get involved, wherever you are," he told the BBC.
Once he takes up the position of Oxford University Student Union (OUSU) president, he wants to deliver "a fresh perspective on what is a very important organisation", but which is currently suffering from an "identity crisis".
'Diverse voices'
"Students on the whole are not engaged with OUSU, despite the fact that it does amazing things for every student in Oxford," he said.
He wanted to use the "many diverse student voices in Oxford to make sure we get it right".
He said he was "elected on the principle that we need to rethink the way student unions are run".
He added his key aim was to strengthen OUSU's position as a support organisation for common rooms, societies, and campaigns, "as these are at the heart of the Oxford student body".
He said negative student perceptions were in part down to underfunding, which limited the union's "ability to engage with the students it serves".
An Oxford University spokesperson said: "Given constraints on resources, the size of the grant allocated to OUSU has to be considered in line with funding levels elsewhere in the university."
Mr Trup will take up his position as president in six months.