Greenpeace Russia arrests: Oxford activist released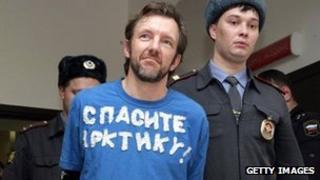 The last of the six British people arrested by the Russian authorities during a Greenpeace protest has been freed from detention.
Philip Ball from Oxford was granted bail last week, but has only just been released by a court in St Petersburg.
Only one of the 30 people arrested in the Arctic two months ago - Australian Colin Russell - remains in detention.
Greenpeace's Arctic Sunrise was seized on 18 September - 28 activists and two freelance journalists were arrested.
All 30 still face possible trial on charges of hooliganism over the protest at an Arctic offshore oil rig owned by the Russian company Gazprom.
'Great relief'
Mr Ball's brother, Steve, said his release was "brilliant news".
"After two months in jail he could have done without another weekend behind bars," he said in a statement released by Greenpeace.
"But it's a great relief to know he's finally out and able to talk to his friends and colleagues.
"Our thoughts though are still with Colin's family."
Earlier this month, the International Tribunal for the Law of the Sea, sitting in Hamburg, ruled that the ship and those arrested on board should be released in return for a 3.6m euro bond (more than £3m).
The five British people previously released were: Anthony Perrett, from Newport in south Wales; freelance journalist Kieron Bryan; Alexandra Harris from Exeter; Iain Rogers from Devon; and Frank Hewetson from London.
Greenpeace said it was not yet certain whether they can leave Russia and return home.
Lawyers for Colin Russell are lodging appeals against his continued detention and expect a hearing to be held this week.