The People's Supermarket Oxford to close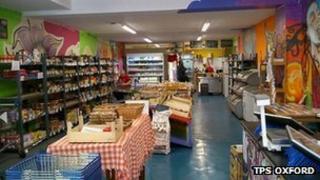 A supermarket owned and run by local people in Oxford is to close.
A statement from The People's Supermarket (TPS) Oxford said it was not able to meet rent payments on its Cowley Road premises.
The co-operative, mainly run by volunteers, has been trading for 16 months.
Hannah Hoechner from the group said "cash flow constraints" had been the biggest problem the project had faced.
About 600 local people own shares in the supermarket, which has been run as a not-for-profit co-operative.
The shop aims to sell locally-sourced fruit and vegetables and ethical goods and has rewarded staff with discounts on purchases.
The shop was set up by greengrocer Chris Waites in 2012, who was inspired to start it by a Channel 4 series.
Ms Hoechner said people who had contributed to an appeal for £20,000 launched in the summer would be reimbursed, but there was "some level of debt" and the group was talking to its creditors.
At a meeting on Tuesday, members said they wanted to start a similar shop elsewhere in the city in lower cost or rent-free premises.
The group said it would stay in "close consultation" with TPS London over using the TPS trademark for potential future ventures.
"Even with the shop closing, the community won't go away and is committed to the ideas," Ms Hoechner added.