George Harrison Townlands Hospital memorial planned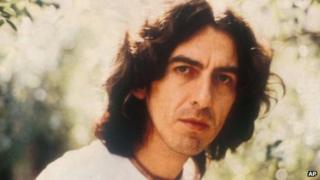 Plans for a permanent memorial to George Harrison at a community hospital in Oxfordshire are under way.
Townlands Hospital in Henley-on-Thames is undergoing an £8.7m upgrade after campaigners fought to keep it open.
A spokeswoman for the late Beatle's family said it was in talks with the hospital's League of Friends to "create a lasting memorial to George Harrison within the proposed redevelopment".
Harrison lived in the town until his death in 2001.
The spokeswoman added: "It will very much be something to support and aid the local community rather than a statue or plaque."
A petition started by resident James Lambert in 2012 to erect a statue in the town was halted after a response from the star's widow, Olivia.
'Health campus'
Mr Lambert said: "The Harrison family were reticent to have a more formal landmark, but what better initiative to get involved in than the redevelopment of Townlands.
"It's great news, and it will be very welcomed and embraced by the whole of Henley.
"It's a really generous gesture that the Harrison family have decided to do something in the town."
Guy Norgrove, treasurer of Friends of Townlands, admitted negotiations were at a very early stage. Work was due to begin on the development in October, but he said plans were more likely to be ready mid-2014.
"Our objective on behalf of the Harrison family and the Friends of Townlands is to put in place at Townlands, a lasting, relevant and appropriate memorial to George, who loved living in Henley, and was and is held in high regard by its residents," he said.
A spokesman from NHS Property Services Ltd said it "always welcomed suggestions and ideas from local people".
He added that it would look at the proposals in detail, in consultation with the League of Friends and others local partners.
Harrison, whose songs include Something, Here Comes the Sun and My Sweet Lord, moved to Henley-on-Thames in the 1970s when he bought a large stately home and saved it from demolition.
The former Beatle, who died of cancer aged 58 in November 2001, was stabbed seven times by an intruder in 1999.
Townlands Hospital is to become a "health campus" with an 18-bed hospital and a 64-bed care home.
It will also incorporate a 12-bed Sue Ryder palliative care hospice, which is moving from the charity's headquarters in nearby Nettlebed.
The hospital had been the subject of a long-running campaign to keep it open, which was backed by then Henley MP Boris Johnson.