Wild Swim named BBC Introducing in Oxford Band of the Year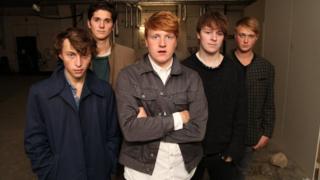 Wild Swim are BBC Introducing in Oxford's Band of the Year 2013.
Lead singer Richard Sansom said the five-piece were "absolutely chuffed" to receive the honour.
Bassist Jacob Lively added: "There's a certain amount of pressure now, but it's good."
The band's dramatic vocals and synth-pop stylings have won them many fans on the local scene and further afield.
Tom Robinson, BBC 6Music presenter, described them as "absurdly good and absurdly young".
And Ronan Munro, editor of Oxford music magazine Nightshift, said: "Richard's got this beautiful voice, and it's quite dramatic, almost operatic.
"The whole thing's very delicate, there's lots of shifting patterns.
"They deserve it, they're great. If you haven't seen or heard them yet, make the effort."
Wild Swim were first played on BBC Introducing in October 2010 and have since released a string of bombastic singles.
Sansom described the local scene as a "great thing to be part of".
"There's tonnes going on all the time, and there are the right venues to nurture you from young band to wherever you want to go," he added.
The band also includes Carlos Posada, Sam Robinson, and Jamie Jay.
Their debut album is planned for 2014.
Wild Swim headline a BBC Introducing gig Upstairs at the O2 Academy in January.