Oxford City Council moves closer to owning riverbank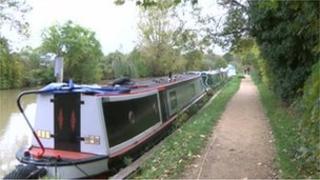 The ownership of a stretch of Thames riverbank has moved a step closer in Oxford City Council's favour.
The authority has agreed a plan to apply for adverse possession - a legal process to give them ownership.
It hopes the move will help stop boats mooring on the stretch of river behind Abbey Road permanently.
Boaters living there said they do not cause any problems and want to stay. Nearby residents however back the council's decision.
The homeowners, whose houses back on to the river, have also offered to help pay for maintenance of the land.
Earlier this month, the council said its plan followed a series of complaints from residents about "problem boaters".
'Full ownership'
Julian Levay, an Abbey Road resident, said he had experienced problems including fly-tipping, noise, open petrol cans and a caravan being left on the embankment.
"People who live here have been asking for this for a long time," he explained.
"We need the council to take full ownership so we can tackle what is going on in our back gardens."
Steve Priest, who has moored his boat on the affected stretch for the past three years, has previously told the BBC he would be happy to pay an "affordable" residential mooring fee.
Moorings are currently allowed for 48 hours over a 21-day period, but without ownership the council said this is difficult to enforce.
The authority said that up until now the ownership of the land near Abbey Road was unknown but it has been maintaining it for "decades".
Labour councillor Colin Cook, the council's board member for development, said the council plan was "good news" for the area.
"It offers us the chance of regularising the mooring arrangements and an opportunity to work with the local residents to improve that stretch of towpath for residents, and boaters alike," he added.