Radiohead and Supergrass backed Oxford music shop saved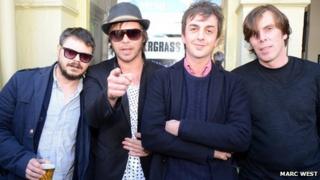 A music shop which has served the likes of Radiohead and Supergrass has been saved from closure after plans to build a restaurant there were rejected.
Professional Music Technology on Oxford's Cowley Road was going to be converted into a cafe and restaurant as part of a hotel development.
Oxford City Council unanimously voted to reject the proposals on Tuesday.
Members of Radiohead and Supergrass had spoken out in support of the shop, which sells instruments and equipment.
More than 1,000 people had also signed up to a Facebook group campaigning to save the store, where members from both Oxford bands are regular customers.
Reacting on Twitter, Supergrass frontman Gaz Coombes said: "Congrats to all. Application to close down PMT music store in Oxford refused. Decision unanimous. You lose, Travelodge!"
Travelodge, which leases the site, said it still planned to open a 66-bed hotel on the upper floors of the building.
A spokesperson said: "Planning permission was recently obtained by the owner of the building for a hotel on site and we have agreed terms to occupy the building."
'Music to my ears'
Darren Fellerdale, who manages the shop, said independent retailers were "vital" to the area.
"The store has been here for 15 years, it's where it belongs," he said.
Councillors were concerned at a loss of shops in the east Oxford area.
Councillor Mark Lygo said the outcome was "music to my ears".
"The decision was made on planning law and I am very pleased because we need to protect the character and diversity on Cowley Road," he said.
The restaurant, which was recommended for approval, would have been located on the ground floor of Tyndale House in the unit which houses the music shop.